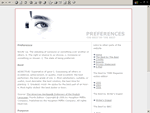 January 18, 2005. "The personal site of an incredibly talented young Mexican lady, whose biography shows us how important can be art in one's life. Her site offers many galleries featuring her beautiful works, a series of interviews with other artists and a portfolio of her works as web designer. The site is very elegant and very well designed." Barbara Tampieri

"Il sito personale di una giovane messicana dall'incredibile talento, la cui biografia ci dimostra quanto sia importante l'arte nella nostra vita. Il suo sito offre numerose gallerie delle sue splendide opere, una serie di interviste con altri artisti realizzate per BTDesign Art Gallery e un portaolio dei suoi lavori come web designer. Il sito è molto elegante e ben realizzato". Dr. Barbara Tampieri

Preferences - The Best of the Best
Bueno Aires, Argentina.